On your roof, asphalt shingles are the primary barrier against the elements while the underlayment is an important secondary barrier. The underlayment adds a layer of essential protection between roofing shingles and the roof deck. They also protect the wood roof deck during installation.
For many years, traditional roofing felt was the most popular underlayment. It resists moisture intrusion while still allowing the roof to "breathe." Roof felt consists of a heavy-duty cellulose base saturated with water-resistant bitumen. It comes in two weights, #15 and #30. Cellulose is a product of the paper and wood pulp industry, while bitumen is a very sticky, highly viscous and waterproof asphalt derivative. Since felt can tear in high winds, it should not be left exposed during roof installations. To improve tear-resistance, modern roof felt is often reinforced with fiberglass for added strength.
What is Synthetic Underlayment?
In contrast to regular roof felt, synthetic underlayment is typically fabricated from man-made polypropylene and polymer, substances that are lightweight, highly water-resistant and very durable. For these reasons, NJ roofing contractors increasingly use these synthetic materials instead of traditional felt. The slightly higher cost is offset to a degree by improved productivity during installation. It is simply easier to work with materials that are much lighter than #30 felt.
Titanium, Deck Defense, Pro Armor and RhinoRoof woven underlayments from Owens Corning are up to 12 times more tear-resistant than regular #30 felt, and up to four times lighter. GAF's Tiger Paw, Deck-Armor and Feltbuster are three other examples of synthetic underlayment. In tear strength testing, Tiger Paw had at least six times the tear strength of regular #30 felt.
When to Use Synthetic Underlayment
Although NJ homeowners increasingly choose synthetic underlayment for new roof installations, there are certain circumstances where it is particularly wise to go with synthetic materials.
Lower-slope roofs
Tri-state homeowners with lower slope roofs should consider modern synthetic underlayment. It is an ideal choice because it copes well with wind-driven rain. Traditional felt may still be an option on steeply pitched roofs that shed water more readily, although the durability of synthetic underlayment still gives it an edge in these applications as well.
When ice damming is a concern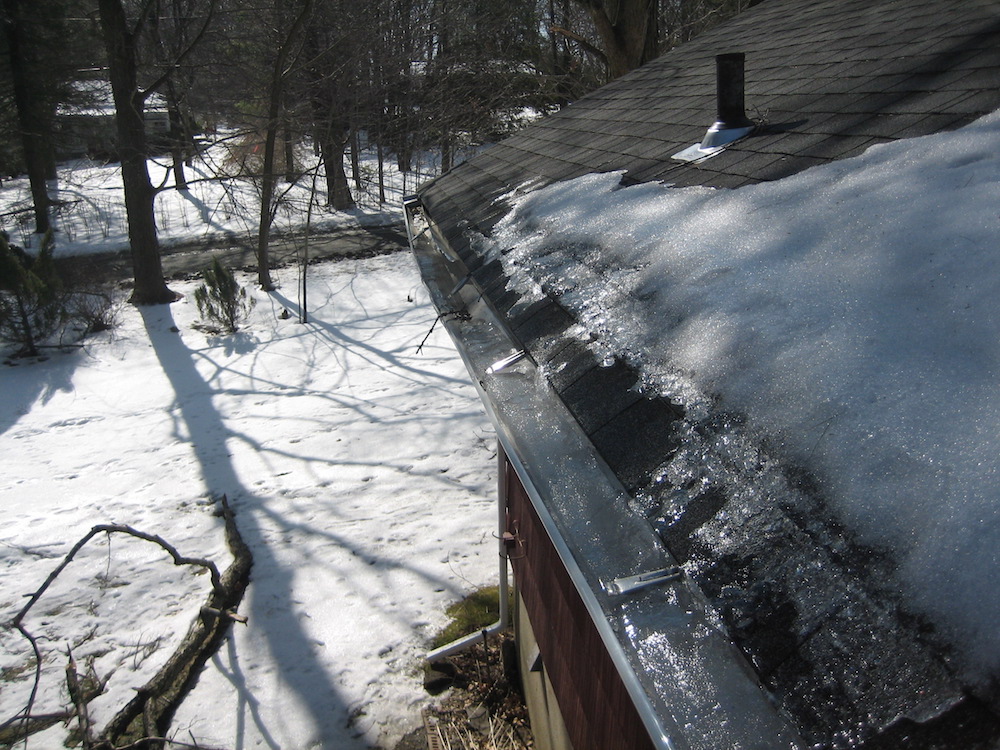 The synthetic option is often preferred when ice damming is an issue. A tough, water-resistant barrier is that much more critical when water backs up behind the accumulations of ice that are so common during New Jersey winters. For the best protection against ice dams, consider the addition of a special ice and water barrier along the eaves and in every other spot where ice dams might occur.
To better cope with temperature extremes
Every year, communities in Bergen, Passaic, Essex and other northern NJ counties witness highs above 90 degrees F and lows well below freezing. Over time, the organic substances in regular roof felt can dry out and turn brittle. By contrast, the inert substances in synthetic materials are resistant to temperature extremes.
When mold is a concern
Synthetic underlayments are also very mold-resistant. By comparison, the organic materials in traditional felt are more vulnerable to mold growth that can affect the health of a home's occupants when the spores infiltrate the living space.
To prevent migration of resins and chemicals
Under some circumstances, it is possible for wood resins in the plywood or OSB used in the roof deck to migrate toward the shingles and stain them. By contrast, synthetic formulations prevent any leaching of wood resins from the roof sheathing into the shingles. A high-quality, waterproof underlayment also prevents tar and moisture in the shingles from being drawn into the roof deck.
Promote installation safety
Typically, roofing crews enjoy better footing on synthetic materials with special non-slip surfaces. By contrast, roofing felt is often more slippery, particularly when the surface is slightly moist.
Value of a Certified Roofing Contractor
Expert advice is important when you install a new roof that's intended to protect your home for decades. Therefore, it is ideal to consult with a certified roofing contractor when you are making decisions about your underlayment and other roof components.
A certified roofing contractor has been factory-certified by one or more of the major roofing manufacturers. For example, GAF has its Master Elite certification program and Owens Corning has its Preferred certification. It is often easier to trust a roofing company that major manufacturers trust to install its products up to spec. For example, Owens Corning only certifies contractors who are screened for customer service and financial stability. They must carry at least $1M worth of liability insurance and keep all required licenses current. GAF holds its certified contractors to similarly high standards.
Contact CRS Today
Since 1977, CRS has proudly served the roofing needs of NJ homeowners. We are certified by both GAF and Owens Corning, two of North America's largest roofing manufacturers. Our standing as a GAF Master Elite Contractor and an Owens Corning Preferred Contractor enables us to offer New Jersey homeowners some of the best manufacturer warranties in the business.
CRS is a full-service roofing company offering roof inspections, regular roof maintenance, emergency repairs, roof ventilation, re-roofing and full roof replacements. We'd welcome the opportunity to earn your business. To arrange for a visit by our certified roof inspector, please contact us today!