When the time comes for a roof replacement, you want a roofing manufacturer and a contractor you can trust. After all, you're investing in your home's first line of defense against extreme weather.
In New Jersey, that means bouts with wind-driven rain, blizzards, ice storms and even large hail. Temperature extremes also test roof systems. In this part of the country, components survive triple-digit heat and sub-zero cold.
In all weather conditions, you want to have the utmost confidence. You want to know your roof will protect those you love and the possessions you value.
3 Reasons Why Owens Corning is the Right Choice
If you find yourself asking, "Are Owens Corning shingles good?" consider three key reasons to say, "Yes!"
1. Tried and true American manufacturer
Owens Corning is a proud American manufacturer that remains an industry leader to this day. Owens Corning is an innovator with an ongoing mission to make the world a better place. It's many technological innovations resulted in hundreds of patents.
Since the Fortune 500 made its debut in 1955, more than 1,800 companies have appeared on the list. Owens Corning has been a Fortune 500 company every single year since then. The company employs more than 19,000 individuals at plants throughout the United States. In fact, one is right here in Kearny, NJ.
Over the years, Owens Corning brought fiberglass to diverse markets. This versatile product revolutionized manufacturing in many areas of the global economy. Fiberglass appears in applications as diverse as construction, military and consumer goods.
Owens Corning also incorporated fiberglass into its asphalt shingles to upgrade residential roofing. The company set a new standard in design, manufacturing, and overall quality.
2. Total Protection Roofing System
There is no more complete roofing system than the Owens Corning Total Protection Roofing System (TPRS). It features a portfolio of vertically integrated and cross-engineered roofing components. Together, they perform as a high-quality, cohesive system. Are Owens Corning shingles good? Yes, because they are part of a fully integrated roofing system that includes:
Premium shingles
Owens Corning manufactures some of the best shingles in the business. Duration and Duration Designer shingles deliver both the protection and aesthetics you're looking for. Enjoy industry-leading warranty protection when you invest in these super-durable laminated shingles. Shadowing and multi-color granules provide a deeply dimensional look you'll love.
Quality underlayment
Roof underlayment is the protective sheeting under the shingles. It is another layer of protection against moisture infiltration. Owens Corning manufactures two high-quality synthetic underlayments, Deck Defense and Pro Armor. It also offers Fiberglas Reinforced Felt.
Effective ice & water barriers
Owens Corning manufactures ice & water barriers that are an added layer of defense against ice dams and wind-driven rain. They are particularly important in more vulnerable areas of your roof. The eaves, valleys, rakes, vents and skylights are some examples.
Essential roof ventilation
Intake vents and exhaust vents are critical components of the TPRS. They promote airflow under the roof and throughout the attic. These vents remove excess heat and humidity that can cause the premature deterioration of roof components. Rafter vents, ridge vents and back vents are some examples.
All the components of the TPRS work together to defend against the adverse weather and UV light that routinely assault your home. At the same time, this total roof system breathes in a way that lessens excess heat and humidity in your attic.
An Owens Corning TPRS installed by a local Platinum Preferred Contractor is an unbeatable combination. An NJ homeowner enjoys one of the best values in home improvement. An excellent return on investment offsets some of the upfront expense.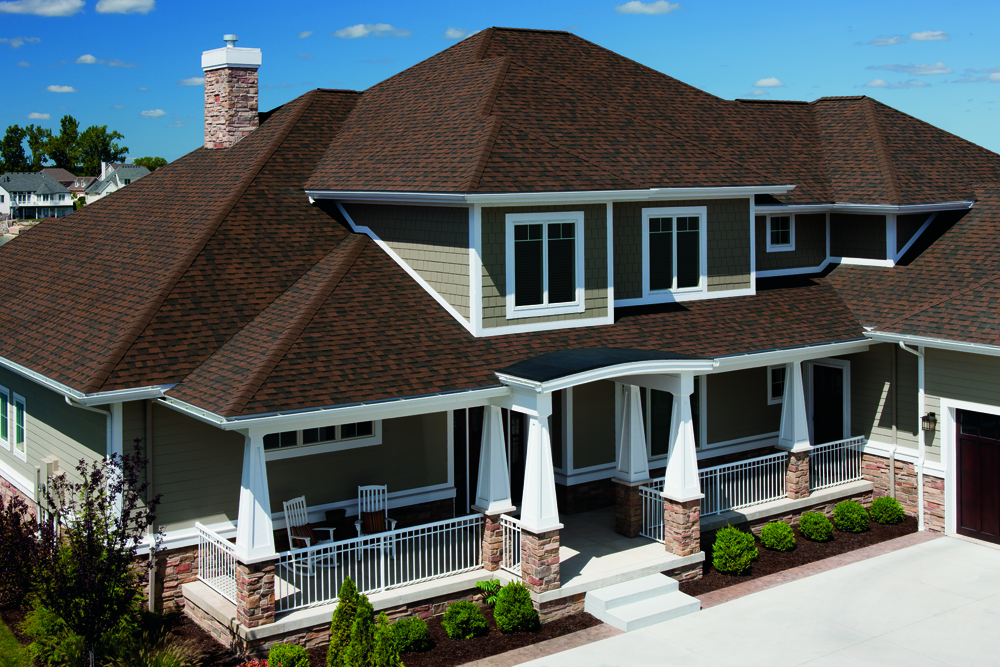 3. Innovative, Patented SureNail technology
Duration and Duration Designer shingles are leading products in the roofing industry. They offer easy application, excellent performance and eye-catching aesthetics. Patented SureNail technology is built into every Duration and Duration Designer shingle. A tough woven fabric strip is strategically built into every shingle. Trained installers use pneumatic nailguns to drive fasteners through this super-strong fastener zone.
You'll get tremendous gripping power when SureNail technology combines with proprietary Tru-Bond Sealant. The result is a cohesive, unified layer of shingles. They stand up to the high winds that sometimes hit the Tri-State area.
Homeowners enjoy the sense of confidence that a 130-mph wind rating provides. Special "pull-through" lab tests prove the superiority of the innovative design.

Contact CRS Today
CRS is proud of its partnership with Owens Corning. Since we are a Platinum Preferred Contractor. Owens Corning authorizes us to offer the best manufacturer warranties in the business. Invest in a complete Owens Corning roof system, and enjoy many years of worry-free protection for your home.
CRS is here to serve you regardless of your roofing need. We've provided continuous service to northern NJ homeowners since 1977. We install new roofs and perform certified roof inspections. We complete emergency repairs and conduct periodic maintenance.
When you are asking "Are Owens Corning shingles good?" our experienced roofing pros stand ready to provide you with the answers you're looking for. We look forward to learning all about your roofing needs. Please contact us today!