Before beginning your commercial roofing project, it is important to know what factors into commercial roof replacement costs. Since every roof is unique, it is important to ask the roofing contractors you are interviewing tough questions about your specific needs. The answers the contractors provide will tell you who is most qualified to tackle your project.
We've created this post in collaboration with the roofing experts at GAF, the largest manufacturer of roofing products in North America, to help you understand commercial roof replacement costs, and choose the right contractor for the job. With GAF's guidance, we get an insider's perspective on commercial roof replacement costs and what factors contribute the most.
8 Key Factors that Impact Commercial Roof Replacement Cost
In addition to the size of your roof being the major factor in the cost of a commercial roof replacement, several other factors have an impact. As you evaluate them, keep in mind that upfront costs ultimately take a backseat to overall lifespan expenses, including maintenance, repairs and potential premature replacement if a discount contractor fails to install or service the roof properly.
Tear-off or overlay?
Modern, single-ply membrane commercial roofing can often be applied right over the existing roof system. This can eliminate the need to tear off the old roof before the installation of a new one. When considering whether to tear off the old roof or do an overlay, the labor required to tear off existing roofing is only part of the equation. There are also hauling and landfill costs to consider for the old material. Therefore, it is worth exploring whether the roofer can overlay the new roof over the old one. This approach also makes it possible to add insulation without tearing off existing roofing, potentially saving money on heating and cooling costs.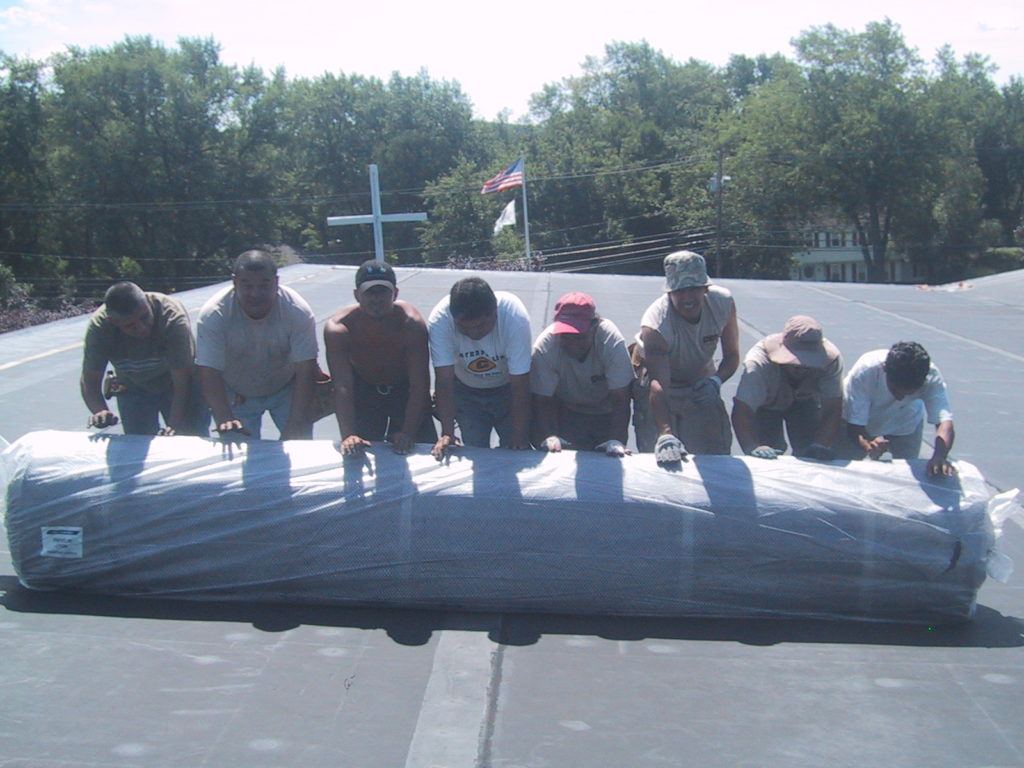 Type of roof system
There are a wide variety of commercial roof systems to consider. Each type has different costs, both upfront and long-term. Although built-up and modified bitumen roofs often reduce upfront replacement costs, it is important to consider all lifespan expenses, including maintenance and repairs. When it comes to the cost of commercial roof replacements, modern single-ply roofs may not be the least expensive option. Still, they may provide the best value over time due to their longevity and reliability. TPO, PVC and EPDM single-ply membranes are all worth considering for their lifetime value.
Quality of materials
Since the right materials can add years to the lifespan of your new roof, it is important to perform your due diligence with the contractor. When you divide all costs associated with your roof by the number of years it can last, you'll often find that high-quality materials offer the best value. Selecting lower-grade roofing materials to save on your commercial roof replacement may lead to premature aging and other roof failures that cause leaks, increasing the costs down the line.
Additionally, the most durable materials increase peace of mind. For example, a 60-mil single-ply membrane will typically cost more than one that is 45-mil thick. Still, the increased puncture resistance may decrease long-term expenses, particularly if your roof is more likely to experience potential punctures from falling debris.
Roof Protrusions
The number of vents, pipes, skylights and other roof penetrations will impact costs by increasing the amount of detailed work necessary to install your new commercial roof properly. Certain protrusions are more labor-intensive than others, which can increase the cost of your commercial roof replacement more. In all cases, professional technicians must carefully account for waterproofing requirements around every roof protrusion, which quickly adds time and cost.
Roof Access
In addition to the specifics of the roof itself, your commercial roof replacement cost may increase if roof access is restricted. For example, most modern, single-ply membrane roofing materials are delivered in wide, heavy rolls. These rolls reduce the number of seams, which reduces the potential for seam failure and issues in the future. As a result, cranes and other heavy equipment may be needed to hoist these materials up to your roof. When access is more restricted, it may be more time-consuming to deploy the right equipment or get the supplies into position, which will increase your cost.
Insulation
When you update an existing roof, your commercial roof replacement costs may be affected by a need to add insulation to comply with new building codes that are designed to reduce greenhouse gas emissions and reduce energy use. Typically, you will recover some of the expense through reduced energy costs for the life of the new roof.
Adverse weather
While not something that can be controlled, bad weather may also impact commercial roof replacement costs. During key phases of a commercial roof installation, care must be taken to prevent excess moisture from infiltrating the sub-roofing. As a result, wet conditions may slow work at times, which can increase costs.
Labor cost and availability
Scheduling a commercial project requires a realistic assessment of the availability of qualified, experienced roofing technicians. Ideally, you should work with a roofing company committed to only using their own employees on a commercial project. Some companies may try to reduce costs or increase availability by using subcontracted labor to meet demand. While this may reduce short-term costs of the replacement, the quality of the work may suffer, leading to increased repair costs in the future and potentially leading to prematurely needing to replace the roof.
Customized Designs Offer Real Value
A properly installed roof with the right fit can serve you well for decades. Therefore, it is important to properly research roofing companies capable of customizing your new roof system. When you look at commercial roof replacement costs, things like long-term maintenance, repair, and the cost of interruption to your business must all be considered.
Finally, if you are responsible for replacing an extensive roof, consider using an independent roofing consultant to inject an unbiased voice into the deliberations.
Contact CRS Today
Since its inception in 1977, CRS has grown to become one of the leading commercial roofers in the Tri-state region. We understand that every commercial roof is unique. Accordingly, we design customized roofing solutions that solve every kind of roofing challenge.
At CRS, our commercial projects are completed only by our own employees working under the strict supervision of our VP of Operations. We are properly licensed, bonded and insured.
We would welcome the opportunity to evaluate your roofing situation. Contact us today, and we'll arrange to send our certified roofing inspector out to evaluate your current roof system professionally.